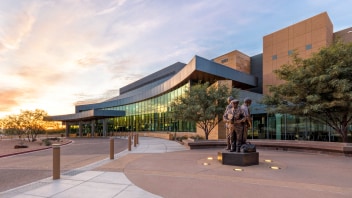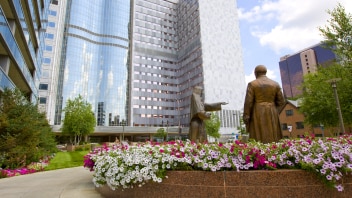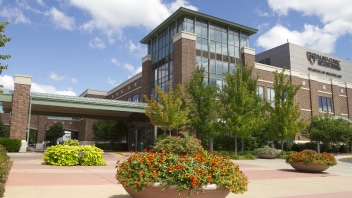 At Mayo Clinic Comprehensive Cancer Center, education is central to everything we do. We educate the public, patients and caregivers on all aspects of cancer.
Patients with cancer who come to Mayo Clinic Comprehensive Cancer Center benefit from the knowledge of Mayo Clinic's specialists and the clinic's integrated approach to treating each patient. This approach to medical care means that specialists from all areas of medicine and research share knowledge and work together for the benefit of the patient.
Along with excellent patient care and rigorous research programs, Mayo Clinic Comprehensive Cancer Center offers educational and support services. Please ask your care team what resources are available for you or email canceredprog@mayo.edu to learn more.
Mayo Clinic Rochester
The Stephen and Barbara Slaggie Family Cancer Education Center offers free classes to support cancer patients, their caregivers, staff and the public during diagnosis, treatment and life after treatment. The center team includes cancer educators, a librarian, and Patient Navigators who are available to help patients and the public:
Learn about cancer prevention and detection.
Find out more about a cancer diagnosis.
Explore how to manage treatment-related side effects.
Connect to educational sessions and support groups.
Address survivorship issues.
Locate additional support resources, such as financial assistance, lodging, transportation, wigs and prosthetics.
To contact the Slaggie Family Cancer Education Center in Minnesota, call 507-266-2991 or visit us on the lobby level of the Gonda Building, 7:30 a.m. to 4:30 p.m. Monday through Friday.
Mayo Clinic Arizona
Mayo Clinic in Arizona has two patient education libraries, one in the Mayo Clinic Building – Scottsdale, and one in the Mayo Clinic Building – Phoenix. The libraries are open 8 am – 4:30 pm (MST) Mon-Fri. Librarians are available to assist with finding and accessing cancer-related print and online resources. Visit the patient library webpage for more information.
Daily group classes on chemotherapy treatment are taught by a certified oncology nurse. Additional classes on treatments and other topics are available in group and one-on-one settings. Please refer to the calendar of events or talk with your health care provider to learn more.
A Patient Navigator is located in the Phoenix campus patient library. Request an appointment by calling (480) 342-4229 or stop in to see if someone is available. Navigators provide:
Assistance and resources for financial, lodging and transportation needs
Information and schedules for classes and support groups
Patient education materials on cancer topics
Mayo Clinic Florida
The William and Nancy Juhn Cancer Education Room is open Monday through Friday, 8 a.m. to 5 p.m. and is located on the 2nd Floor of the Mangurian Building. Education sessions for patients and families are scheduled with a Chemotherapy Registered Nurse prior to the first chemotherapy treatment. These individual sessions are held in the Juhn Education Room. When the room isn't being used for formal education, patients and families are welcome to browse the resources in the area. Staff members are nearby to answer questions and assist with checking out of materials.
Additional resources including pamphlets, books, journals and computers for patient-use are available in the Lobby of the 3rd Floor of the Mangurian Building. Staff and volunteers are available to assist visitors in searching the Internet for cancer-related information.
Mayo Clinic Health System
Our team of experts focuses on the diagnosis, assessment and treatment of various types of cancer, as well as your health needs beyond cancer. We bring the knowledge of hundreds of Mayo Clinic cancer specialists — and the experience of treating more than a million patients — to your community. For locations and contact information visit here.